Bensdorp Cocoa, 1 lb bags - WS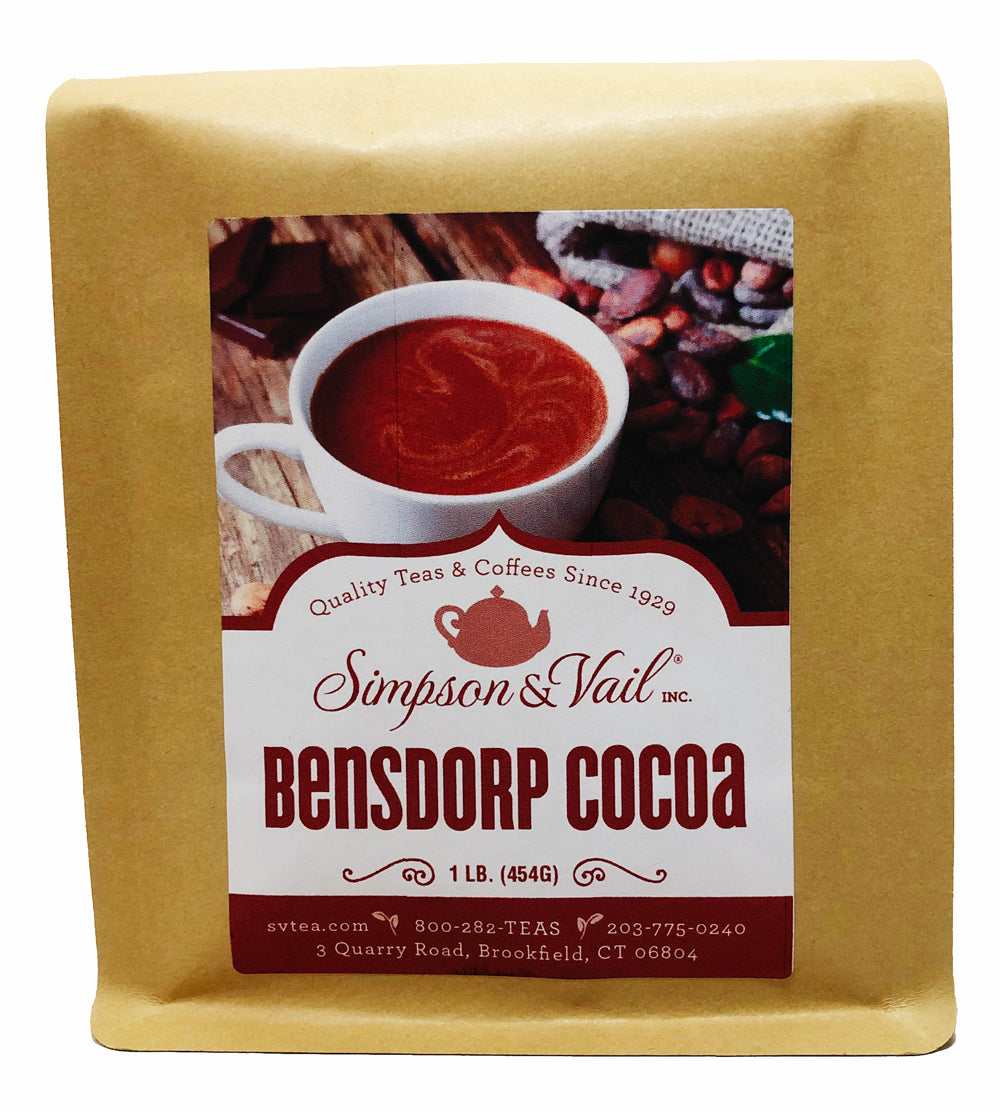 Bensdorp Cocoa, 1 lb bags - WS
This pure unsweetened cocoa, from Holland, is blended from the finest quality beans. It is Dutch processed and is a full-fat cocoa (22%-24%), which results in a full, rich flavor. Use this cocoa to make delicious beverages and for all your fine baking needs.
Dutch Process vs. Natural Process
Natural Process is when the cocoa butter is removed from the cacao beans leaving the cocoa solids that are then ground in to a powder. When alkalis are added to the cocoa solids, which neturalizes the acidity and mellows out the flavor, this is called Dutch process.
Dutch processing produces a cocoa that is darker in color than natural processing. So using this cocoa in your recipes will create a darker color to your baked goods. Dutch processed cocoa will also create a taste in your baked goods that is more similar to the taste of a dark chocolate, and will have a little more of a moist consistency to the finished product, as compared to natural processed cocoa.
Nutritional Information
(per 100 grams:)
463 Calories
30 grams Carbohydrates
20 g Protein
23 g Fat 13.8 Saturated - 9.2 Unsaturated
Minerals:
18 mg Sodium
3323 mg Potassium
432 mg Magnesium
135 mg Calcium
12 mg Iron
676mg Phosphorous

Chocolate Cream Roll
Recipe from The Common Ground Dessert Cookbook*

Ingredients
1/4 cup Bensdorp cocoa
3/4 cup whole wheat pastry flour, sifted and then measured
1 tsp baking powder

4 eggs, separated
1/4 cup + 2 Tbsp honey
1 tsp vanilla extra
1 Tbsp rum (optional)

1 1/4 cup heavy cream
2 Tbsp maple syrup
1/2 tsp vanilla extract or Kirsch

Preheat oven to 375F. Grease a 10 1/2 x 15 1/2" pan.

Mix cocoa, sifted flour and baking powder

Beat egg yolks until they are very thick and creamy - about 10-15 minutes. Add honey, 1 tsp vanilla and rum slowly while beating.

Gradually add dry ingredients and beat until smooth.

Beat egg whites until stiff but not dry, and fold them into batter.

Spread batter into the oiled pan. It will be very thin.

Bake for 10-12 minutes.

Cool cake for a few minutes, then loosen the edges with a knife. Place a towel over the cake and with two spatulas placed under one end of the cake roll it up into the towel.

Chill cake rolled up in the towel in refrigerator for 1 hour.

Whip cream until stiff, then beat in maple syrup and vanilla or Kirsch.

Unroll the cake, remove the towel, and spread whipped cream over the cake.

Re-roll the cake, placing seam side down.

Chill for at least 15 minutes before slicing.

See another recipe for Bensdorp Cocoa


*The Common Ground was an amazing restaurant in Brattleboro, VT. It was a co-operative, community restaurant that opened in 1971. It was my favorite place to eat and I would make sure that any trip northward always included a detour and stop there. Sadly they closed years ago. This cookbook was published in 1983.


Easy Tiramisu Cupcakes using Bensdorp Cocoa
Recipe provided by Judy Bindner

Mix boxed cake mix according to package directions, using vanilla, golden vanilla or French Vanilla flavored mix. Take half of the mix and add 1 tbsp instant coffee or espresso and 2 tbsp Bensdorp unsweetened cocoa powder. Mix well.

Place cupcake liners in cupcake pans. Alternate pouring the light and dark cake batters into the cupcake pans. Swirl each one with a knife, taking care not to over blend. Fill about 2/3 full and bake as directed. Cool thoroughly.

For the icing, beat 8 ounces of marscapone cheese with 2 tbsp sugar and 1 tsp real vanilla and 1 cup of heavy whipping cream until peaks form that hold their shape well. Frost each cupcake and dust the tops with additional Bensdorp unsweetened cocoa powder.


Low stock - 9 items left

Inventory on the way