Japanese Green Matcha, 30 gram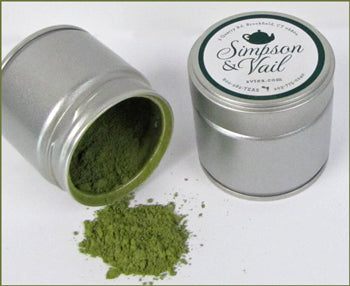 Japanese Green Matcha, 30 gram
Regular price
$3980
$39.80
Japan, with its warm climate and ample rain, is a perfect environment for tea growing. Tea growing is thought to have begun here in the 8th century. While other countries grow their tea bushes on hillsides and pick teas by hand, Japanese gardens are meticulously planted in rows along hills close to natural water sources. Although some teas are hand-picked in Japan, most of the tea grown here is mechanically picked and processed using high tech machinery. Also, unlike other countries that designate their teas by regions or estates, Japanese teas are generally sold by styles.

Matcha is powdered tea used in the Japanese tea ceremonies, and is a favorite of bakers as it provides a vivid green color and unique taste to a wide array of baked goods. It is reported that it has over 133 times more antioxidants than blueberries.

This organic matcha originates from the Kagoshima Prefecture located at the southwest tip of Kyushu. This region is made up of long flat terrain which is perfect for planting and harvesting mechanically. This harvest method produces very precise and evenness for each tea leaf. Matcha is made from tea leaves that are shade grown, similar to Gyokuro, which are ground into a powder using stone mills Our organic matcha has a vibrant aromatic creamy green tea taste that has no bitterness and is perfect hot or cold.

EU Organic Certified

To make Usucha (thin, mild matcha - the standard way): Sift matcha for a mellow flavor and smooth texture. Place 2 chashaku (bamboo scoop) or 1 tsp of sifted matcha into the chawan (bowl). Pour 70 ml (2.37 fl. oz.) of hot (175º or less ) water in the chawan. Use the chasen (bamboo whisk) to mix matcha into a delicious frothy brew. Rapidly whisk until a fine foam appears on the surface, which means the tea is smooth and ready to drink.

To make Koicha (thick, strong matcha - the formal tea ceremony): Place 4 chashaku or 2 tsp. of sifted matcha into the chawan. Pour 50ml (1.70 fl. oz.) of hot water into the chawan and whisk with the chasen. Koicha is not frothy like Usucha.

Vacuum packed 30 gram tin (1.05 oz).


MATCHA TEA LEMON SQUARES
Delicious green tea and lemon squares!


Bottom:
1/2 cup (1 stick) butter
1 cup all purpose flour
1/4 cup confectioners' sugar
1 tsp Matcha, green tea powder
Topping:
2 eggs
1 cup sugar
2 Tbsp lemon juice
2 Tbsp flour
a pinch of salt
Preheat oven to 350F.
Cut the butter into the flour, confectioners' sugar and matcha tea and press into a 9-inch square pan. Bake for 20 minutes or until light brown.
Combine the topping ingredients. When the bottom is done, and still hot, pour the topping over it and continue baking for about 25 minutes.
Recipe adapted from King Arthur Baking
BERRY MATCHA SMOOTHIE
1 cup frozen blueberries
1 cup low-fat Vanilla Yogurt
2 tsps. Matcha, green tea powder
6 ice cubes
1/2 cup almond milk
1 banana
Put all the ingredients in a blender and blend until smooth. Makes 2 glasses.
In stock, ready to ship

Inventory on the way